Our environment exposes us to pollutants on a daily basis. We accumulate waste products/toxins from the air we breathe, chemically enhanced foods and things we touch or put on our body. These waste products build up in areas of our body and, as a result, we have poor circulation, cellulite, weight and inch gain, pre-mature aging, wrinkles and lack of energy. That is the body's natural response to fighting off these poisons that we take in. As the toxin build-up continues, it creates excess build up between your adipose (fatty cells), causing the fatty cells to separate and visible puffiness will occur in the areas of the thighs, buttocks, waist and hips.

This exclusive body wrap system intervenes by balancing your oncitic pressure (internal cell pressure) and cleansing the fluid in between your fatty cells (interstitial cells). This process helps remove not only the contaminated matters, but releases unecessary accumulation of interstitial fluid build up surrounding the infected area.
We're talking about visibly tightening and toning your current figure using all-natural mineral body wraps. The results are obvious and instantaneous – you'll see the difference on your very first visit.
The PROCESS is simple. You are first measured prior to being wrapped. Then the technician will wrap your whole body in porous bandages soaked in the exclusive mineral solution. For 50 minutes the patron will then either lay down in an infrared blanket or perform light exercises on The Whole Body Vibration to increase the body's circulation, allowing the lymphatic system to flush out the body's waste products. After the session, the patron is unwrapped and re-measured.
While many people have heard of body wrapping in general, very few people know anything about the different body wrap options available. See the different body wraps Segue has to offer from the menu above.
Flat Tummy can be added to any Mineral Body Wrap for maximum inch loss targeting the mid torso area or hips.
Water Release can be added to any Segue Mineral Body Wrap for the ultimate added water retention loss.
Please inform us if you would like to add these beneficial components to your Segue Body Wrap when you book your appointment.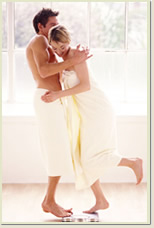 Body Wrap Facts
How to prepare for a mineral body wrap
Frequently Asked Questions
Mineral Wrap Process
Segue Body Wrap Spa Policy

Read the "How to Prepare for a Body Wrap" section prior to the wrap appointment.